In 20 years of interviewing actors, musicians, designers and artists, my audience with Pat McGrath has been the most difficult. Not because she's chilly or aloof (she's tactile, warm, prone to outbursts of laughter and the lavish use of "darling"), but because not a minute goes by without a passerby interrupting to tell her how much they admire her, and to my frustration, she spends much of our precious allotted time indulging them.
"You look beautiful, darling," she purrs to one beauty blogger, as worried publicists look on impatiently. "Let me get someone from my team to do your makeup! It'll be gorgeous on you," she says to another. She stops again to pose for a photograph with actor Olivia Palermo (who seems under no illusion that she might be the main attraction here), then again to reel off some social media content and to check an assistant has her trainers. By then our "intimate chat", in a bustling Parisian penthouse, is rather up against it, because McGrath is due to get on a motorbike to the Ritz, where an unnamed celebrity is waiting to be made up for the red carpet.
She promises a follow-up within days, and so begins almost a fortnight of postponements, briefing calls, time-zone complications and several profuse apologies as beauty's biggest hitter paints, dusts and blends her way across dozens of faces and two continents. Truly, I have interviewed more accessible Oscar winners.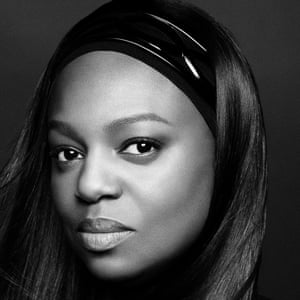 The reason I've been granted this extremely rare face time with the world's most influential makeup artist is that she's just launched her eponymous makeup line, Pat McGrath Labs, in Europe. The brand has already smashed the US, where McGrath lives in two New York West Village apartments, one above the other, though she is barely ever in either. She's mostly on the road, working on magazine covers for the likes of Vogue, Harpers and W, the faces of celebrities such as Rihanna and Kim Kardashian, on advertising campaigns for Versace, Prada, Louis Vuitton and Gucci, and designing the makeup looks for around 80 major fashion shows per year (she is widely acknowledged as the most prolific catwalk makeup artist of all time). She travels from one fashion capital to another with dozens of makeup cases and a huge team of between 25 and 90 devoted artists to carry them all. "The most we've ever taken is 87 trunks," she tells me. "I've collected everything for about 25 years. I'd go into a department store now and buy everything. It's who I am. I just love cosmetics."
McGrath qualifies this by telling me that she has filled 4,000 square feet of storage with products and says "You couldn't get anyone more makeup addicted than me", perhaps because she knows her passion for face paint isn't immediately apparent. Much like the most celebrated fashion experts wear only black (she does, too – today she's in a long black skirt, matching shirt and her signature wide black headband), the world's top makeup artist doesn't appear to be wearing the stuff herself. "I wear very natural makeup but it's made up out of five foundations to make that perfect skin and my lipstick might be three different lipsticks mixed together, so it's a kind of obsession in a different way," she laughs.
If beauty is McGrath's addiction, her single mother was her pusher. McGrath was raised in Northampton by Jean, whose love of God was matched only by an extraordinary fascination with everything fashion and beauty. From as early as McGrath can remember, working class, Jamaican-born, Jehovah's Witness Jean was schooling her in advanced aesthetic awareness. "My mother was obsessed with makeup," she says. "She would stand in front of the TV and we'd have to guess what she'd done differently with her eyes. I'd think: 'Get out of the way!' But she wouldn't move until I'd told her." Together they would analyse the makeup looks of Old Hollywood film stars, identifying which had inspired fashion designers that season.
Jean encouraged McGrath to be creative with makeup, mixing pigments from scratch to get exactly the right colour, adding heat to the skin with her fingertips to give it a healthier glow and soften the look of foundation. She explains: "She always put on a full face of makeup then got in the bath to get that dewy finish. It was next level, but this is where I got my makeup tips from – at seven years old!" Together, Jean (a talented dressmaker) and McGrath would go and look at Vogue patterns, then off to the market, where all the fabric buyers sold their remnants, before deciding which makeup would best go with the clothes.
Source:
https://www.theguardian.com/fashion/2017/aug/06/beauty-queen-how-pat-mcgrath-revolutionised-makeup