South Korea's biggest cosmetics maker is revamping its products to suit Muslims and darker-skinned women in Southeast Asia as it tries to make up business lost because of political tensions with China over a missile-defense system.
Amorepacific Corp. is pushing harder into Indonesia, Singapore, Malaysia, Thailand and Vietnam with a lineup that takes into account skin tones, the region's humidity and the need for Muslim women to wash their faces five times a day before prayers. It marks a significant shift for the Seoul-based company, which generated about 90 percent of its revenue last year in South Korea and China — where many women are fairer-skinned and the weather more variable.
"The diversity of Southeast Asia was a challenge," said Robin Na, head of Amorepacific's operations in Southeast Asia. "The region is a melting pot compared with China and Korea."
Southeast Asia generated just 150 billion won ($133 million) in sales for Amorepacific last year, or less than 3 percent of its total. The company wants to triple that, given the region's cosmetics and skincare market is expected to reach $9.6 billion in sales by 2020, according to Euromonitor.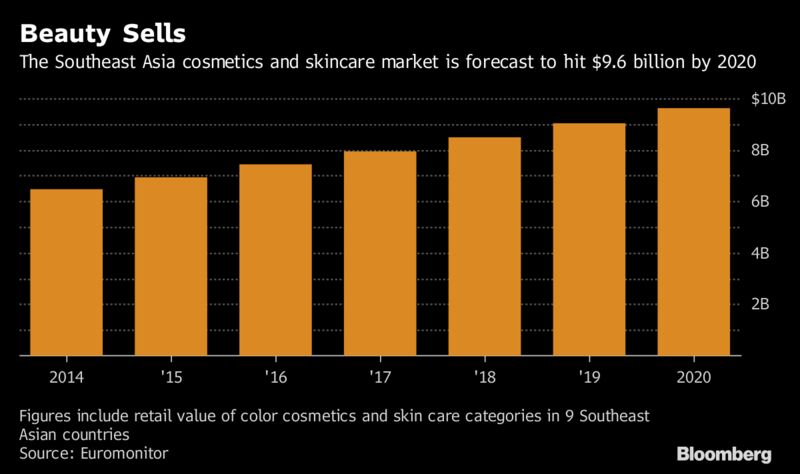 The move is spurred in part by tensions with China over South Korea's hosting of the U.S.'s Thaad missile system, meant to protect against a North Korean attack. China opposes the system and, in the immediate aftermath of its deployment, travel agencies stopped selling tour packages to South Korea, where consumer products are hot items.
There were 2.3 million fewer Chinese tourists in the five months through July, compared with a year earlier. Based on the average spending of Chinese visitors in 2016, that cost South Korea at least $4.7 billion.
That may be especially significant for Amorepacific since China accounted for 19 percent of revenue in the year ended Dec. 31. Shares have declined about 21 percent so far this year, compared with a 19 percent increase for the benchmark Kospi index. The stock gained 0.8 percent in Seoul on Tuesday.
"The recent political conflict between China and South Korea is posing a serious threat to the business of South Korean beauty exporters," said Sunny Um, a Singapore-based research analyst at Euromonitor. "Meanwhile, Southeast Asia markets have been growing strong for the past five years."
Amorepacific's share of the Asia-Pacific cosmetics market doubled to 6 percent between 2011 and 2016, overtaking Estee Lauder Companies Inc., according to Euromonitor.
Source:
https://www.bloomberg.com/news/articles/2017-09-18/mixing-makeup-for-muslim-women-offers-lesson-in-asian-diversity